Recently i flew from Brussels to Dubai with Emirates. They are currently one of my favorite airlines to fly with. Let me tell you why …
The flight staff are amazing! They are genuinely happy and friendly. They seem to be continually offering you a service, but not obtrusively.
They think of things before you do. Like , offering you a drink, more food, collecting your rubbish, taking away your tray! No sitting with an annoying tray blocking your exit from your seat or restricting your movement for hours! They even remember what you drink. They warned me that my food choice could be spicy and if I was ok with that. Pretty amazing.
The long flight was enjoyable and I caught up on some great movies and slept well. Did you know that they even entertain kids while flying? That is so cool. They take polaroid pictures and girls can even put on the cool hats of the flight attendants.
Economy Class: Great seats with plenty of space. The economy seats were among the best economy seats I have experienced at any airline. Every seat has its own personal screen with on demand movies and music. They even provide sleeping masks, ear plugs and a pillow for each passenger. From the moment you step in, you'll be pampered with hot towels, welcome drinks and ice cream.
Business Class: Business Class seats are pretty amazing. The oversized seats are among the best you could wish for. Cabin crew was outstanding. Each of them did their upmost best to serve the passengers in an excellent way. They even prepared the bed as we had an early morning flight. Maybe that was the best things about this flight, being able to actually catch a sleep on those flat-bed seats. Food was excellent and of course even more delicious compared to the economy class. Business seats on Emirates flight even have their personal minibar and oversized entertainment screen.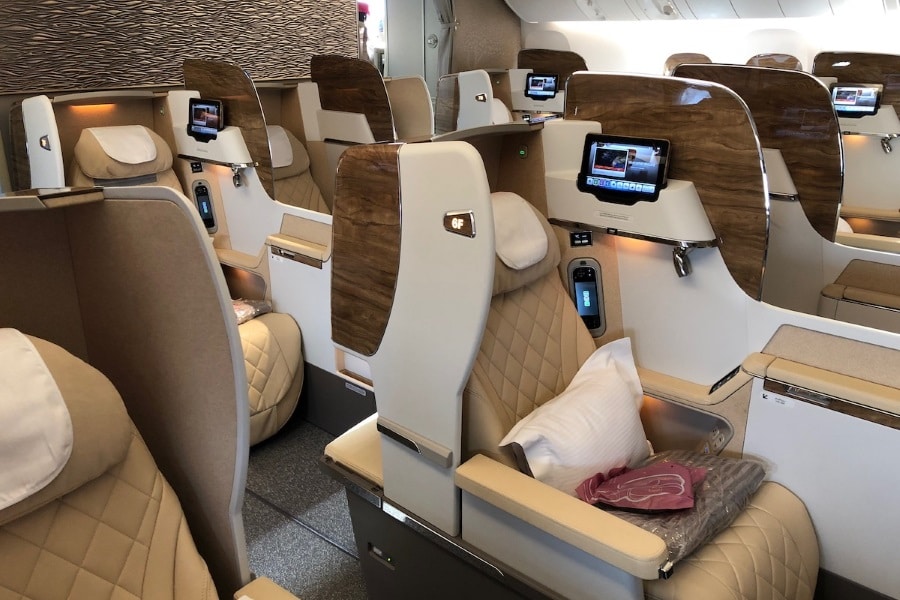 Emirates Business Class Amenity kit is amazing and I was happily surprised to find out that they provide Bulgari products. As most of you know, I truly am a huge fan of Bulgari products… Love the smell and overall quality of the product. The fragrance is packaged in a box, while the lotion and after-shave balms came slotted in the side mesh pockets on the inside wall of the wash bag. It also contains a dental kit that now comes in a reusable case. Finally, they also substituted the deodorant stick with a spray. The small Bulgari leather bag is yours. Love it!
I must also highlight the Business Class bathroom. It truly sets the tone when it comes to style when they even offer a classy bathroom high up in the air. The first class bathroom even has its own shower!
Flying with Emirates was fun! We took off and landed on time, every time. Staff was very professional, efficient and nothing was asked for too much! Their planes are of a very good standard, even the economy seats are excellent and the business seats do add extra comfort and luxury. Do check their website on frequently to book the best deals at emirates.com.